WHAT WE DO
PORTFOLIO
ABOUT US >>
THUNDER FACTORY Name
Management Team
Press Releases
Articles
Job Openings
BLOG
CONTACT






management team


THUNDER FACTORY is led by senior-level veterans from all walks of the marketing world.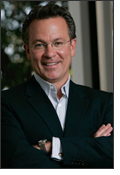 Patrick Di Chiro/Chairman and CEO


Patrick Di Chiro founded THUNDER FACTORY in 2000 because of his fundamental belief that the marketing industry has for too long short-changed the client. Patrick envisioned a new kind of marketing firm, one comprised of highly experienced marketers who are passionate about helping clients succeed by building their businesses and growing their revenues. Thus was born THUNDER FACTORY, combining the strategic rigor of a world-class consulting firm, the creativity and branding expertise of an award-winning advertising/PR agency, the ROI focus of a top direct marketing firm and the technological know-how of a leading online marketing company.

A 27-year veteran of international marketing and communications, Patrick's experience ranges from consumer/brand marketing and technology, to financial services and healthcare. Prior to launching THUNDER FACTORY, Patrick served as Chief Communications Officer of E*TRADE Group, Inc., the pioneering online brokerage and banking firm. Formerly, he was VP of Global Technology Marketing for Visa International, and Partner, Ketchum Worldwide. During his seven-year career at Ketchum, Patrick served as Managing Director of Ketchum's Asia-Pacific agency network, and was the firm's first Director of Global Account Development. In the mid-1980's, Patrick was Director of International Marketing and Communications for American Express Company in New York City. In that capacity he played key roles in launching numerous new American Express products worldwide, and in supporting the company's aggressive international M&A; activities. Patrick was also VP Marketing-Client Services of Armando Testa Advertising, Italy's largest ad agency. He began his career as director of communications for a large Washington, D.C.-based trade association.

Patrick serves on the Board of Directors of the Taproot Foundation, an innovative new organization that is redefining volunteering by combining the efficiencies of traditional volunteer matching services with the quality management practices of leading business consulting firms. Patrick's goal at Taproot is to help non-profit organizations expand and extend their vital community support initiatives by providing them with the same quality marketing and communications services that for-profit companies have access to.

A native of Naples, Italy, Patrick makes his home in the San Francisco Bay Area.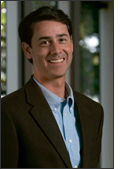 Eric Granof/Executive Vice President, Managing Director, Los Angeles


Eric joined THUNDER FACTORY in 2003 in order to build the company's Southern California business. According to Eric, it was as simple as hearing THUNDER FACTORY's tag line, "Closing sales and driving revenues for clients," that drew his interest in the firm. Eric has a strong background in building and creating brands, and is a strong believer that well managed brands have the ability to drive consumer preference and ultimately drive sales for a company.

Prior to THUNDER FACTORY, Eric spent four years with Lippincott Mercer, a leading corporate identity and brand strategy firm, as a Partner in its Los Angeles office. Prior to Lippincott, Eric was a Senior Project Manager for Citigate Bass Yeager in Los Angeles, where he managed a number of brand strategy and communications projects. Eric spent almost three years at Interbrand, where he was one of the core team members, responsible for starting and growing the San Francisco office. Some of the clients Eric has worked with over the years include, Home Savings of America, Nissan, Genentech, Hewlett Packard, Microsoft, Park Place Entertainment, Caesars Palace, TCW, Kaiser Permanente and Hilton Hotels, to name a few.

Eric has conducted branding seminars for multiple chapters of the American Marketing Association, UCLA and the Executive MBA Program at Santa Clara University. He has also recently co-authored an article on brand risk for RIMS' national publication. Eric holds a BA in Environmental Sciences from the University of California, Santa Barbara and an MBA from the University of California, Irvine.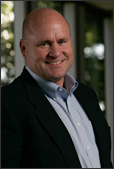 Tony Harkey / Executive Vice President, Managing Director, Performance-Driven Marketing


Tony joined THUNDER FACTORY in the summer of 2005 to spearhead the company's rapidly expanding Performance-Driven Marketing services. His primary focus is to help clients close more sales, drive higher revenues and improve their marketing return on investment through continuous measurement of results. As Tony says, "If you can measure it, you can improve it". Tony brings a broad range of marketing leadership experience from both the corporate client and agency environments. He has led measurable, performance-driven marketing in the automotive, recreational vehicle, boating and financial services industries.

Prior to joining THUNDER FACTORY, Tony was Director of Marketing for Fleetwood RV, the world's leading manufacturer of recreational vehicles. In that capacity, Tony developed comprehensive marketing campaigns and programs that strengthened and expanded Fleetwood's market leading position, and opened up profitable new markets such as Baby Boomers and affluent consumers. In addition, Tony led Fleetwood's efforts to develop and market new RV products designed for niche lifestyle activities.

As the Director of Marketing for E*TRADE, the pioneering online brokerage and banking company, Tony led the company's customer acquisition and cross-sell marketing efforts for four years. He played a key role in growing E*TRADE's customer base by more than 4-fold. At E*TRADE, Tony and his team delivered ground breaking work in online and email marketing, customer segmentation, lead management, referral programs and negotiation of partner marketing programs with the major web portals, hardware and software retailers.

As the National Manager of Relationship Marketing at American Isuzu Motors, Tony built industry leading web, database and direct marketing programs to acquire customers and improve customer loyalty. Earlier in his career, Tony led marketing for the Yamaha WaveRunner product line, helping it to become the market share leader ahead of Kawasaki. He has also held a variety of management posts at advertising agencies in New York and Southern California.

Tony has won a variety of performance-driven marketing awards including The 1998 NCDM Excellence Award (1998 Isuzu Rodeo launch); United States Postal Service's 1999 Mailing Excellence Award; and 1999 Gold Caples Award (Isuzu VehiCross launch). Tony has been a featured speaker at the National Center for Database Marketing (NCDM), Direct Marketing Association (DMA) and various Internet marketing conferences. Tony is a graduate of Rutgers University.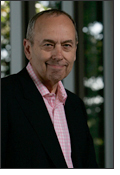 David Jamison/Acting Chief Financial Officer


A man of considerable experience, David Jamison has worked in the advertising and marketing business for more than 25 years. During that time, David has worn many agency hats. CEO, CFO, and COO. David's focus is first and foremost on adding measurable value to clients' brands. A focus that allowed him to quickly establish a results-driven, marketing powerhouse – a goal that was promptly achieved through the acclaimed launch of the first 200 Ross Stores, a world-wide brand launch for National Semiconductor, award wining advertising for Baskin-Robbins and Hyatt Hotels, and a complete creative overhaul of Fresh Choice restaurants, to name a few.

A passionate advocate for powerful ideas and standard-setting creative work, David is committed to the delivery of marketing excellence in a profitable and efficient environment for the benefit of both client and agency.

David heads many important committees and sits on the boards of several influential organizations such as the Fine Arts Museum of San Francisco, The Downtown Association, San Francisco Senior Centers (President), and the Performing Arts Library and Museum . David is also President and the co-founder of the San Francisco Community Fund. David acts as host for the City Club roundtable, a series of invitation only lunches with Bay Area political, cultural amd business leaders.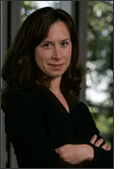 Lisa Larroque/Vice President


For over ten years, Lisa has explored innovative approaches to help leading companies grow. With equal experience in management consulting and marketing, she focuses on blending the art and science of acquiring and developing customers. Her accomplishments include launching the financial service industry's first affiliate marketing program, negotiating one of the most comprehensive and data-centric partnership deals of its time with Yahoo, and leading the team that created Mirage Resort's first strategy to up- and cross-sell leisure guests. She counts Warner Music Group, Continental Airlines, DirecTV and Ocean Spray Cranberries among her past clients. Lisa has worked for Accenture, Ernst & Young, E*TRADE Financial and volunteered abroad with the United Nations.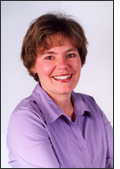 Rebecca Petras/Vice President


For more than 14 years, Rebecca has created and implemented awareness and image-building programs for leading companies, domestically and internationally. Since joining THUNDER FACTORY in 2002, she has provided strategic communications counsel to the firm's clients, including ZANTAZ, McKesson Corporation, Fleetwood and FinancialCircuit. In 2004, Rebecca opened THUNDER FACTORY's first international office in London. Previously, Rebecca was a Vice President for Ketchum, one of the world's largest public relations firms. At Ketchum, she developed and implemented strategic communications programs to position Visa International as a major technology company, and promote Visa's global smart card products. Rebecca also created the first awareness program for i2, and managed numerous technology roundtables and user forums for a host of clients throughout the world. Earlier in her career, Rebecca worked for Accenture and Fifth Third Bank, a leading Ohio-based bank. She has written business and technology articles for publications in New York and Cincinnati. She holds a master's in science from Columbia University School of Journalism.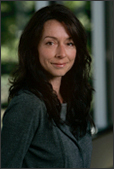 Trisha Ristagno/Vice President


Trisha Ristagno joined THUNDER FACTORY in 2005 with experience across all aspects of public relations and marketing communications in global agency, corporate marketing and independent consulting environments. Her keen interest in innovation and change, and ability to develop and execute communications strategies and messaging based on business goals with start-ups and established public companies alike, has resulted in a wide variety of successful client engagements.

Although Trisha's main career focus has been on technology public relations, she has always been interested in "connecting the dots" between branding, mar-com and PR programs to maximize client impact and results. This approach led her to SALT Branding, where she managed branding and messaging research and implementation guidelines for Microsoft Business Solutions, SQL Server, Windows Longhorn, and Microsoft Mobile Solutions.

While at Text 100 International Public Relations, Trisha was involved in the development and formalization of global and regional products, practices and intelligence tool offerings. Invited to work on agency business and strategic consulting with members of the board, she helped to win and lead some of the agency's largest accounts, including IBM Software and Storage, BEA Systems, StorageTek, Sanrise and Brocade. Earlier in her career, Trisha worked at the leading high tech PR firm, The Benjamin Group/BSMG Worldwide, where her clients included EFI and Mentor Graphics.




Matt Goodson/Associate Creative Director

- Matt has over 12 years experience in advertising and marketing communications, including stints at Young & Rubicam in New York and marchFIRST in Salt Lake City. His broad range of work spans multiple industries and includes clients such as Samsung, Epson, Novell, San José Earthquakes, Blockbuster Video and the Bronx Zoo. Matt was also the lead writer for the 2002 Salt Lake Olympic Committee, where he created and developed the theme of the Games, "Light the Fire Within."

Since joining THUNDER FACTORY in 2002, Matt has worked with our world-class creative team to develop integrated marketing programs to build business for clients such as Ameritrade, ZANTAZ, Computer Associates, and Cabela's among others. He brings a passion for great creative and is always pushing for the highest quality work at every opportunity.







the team:
Patrick Di Chiro
Eric Granof
Tony Harkey
David Jamison
Lisa Larroque
Rebecca Petras
Trisha Ristagno
Matt Goodson